Dear colleagues,
I am happy to introduce myself as Terrakami games. A new compay with the aim to produce laser cut scenery and accesories for wargames, starting with our scifi range produced having Infinity scenarios in mind.
I will regulary update this thread with our news and previews. Hope you enjoy them as much as we are enjoing making them.
http://www.terrakami.com
CONTAINER RANGE
CubEST series

Terrakami Industries presents its new container series CubEST (Cubic e-Structures) featuring a double shielded frame and re-entry temperature resistance. This new series fits the most demanding military requirements and allows safe orbital and ground transportation. Besides, all the elements of the series CubEST display self assembly connectors that allow you to put all its resilience to your service building heavy duty prefabricated structures in minutes.
Hyperion series

The containers of the new Hyperion series represent the best choice for long distance orbital shipments where high transport costs make unfeasible the containers back shipping. Its lightweight single framed structure offers an unbeatable quality-price ratio without sacrificing resistance or stability. Start saving using our Hyperion range of disposable containers.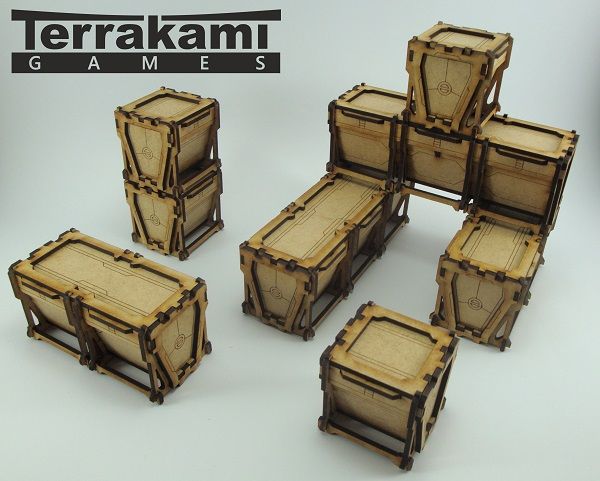 Both ranges could be found at the same sizes and price:
Size S: 50x50x50mm 6.25 euros (2 units)
Size M: 50x50x100mm 5,50 euros
Size L: 50x50x150mm 7,5
CARGO BOXES
40mm and 30mm cargo boxes, suitable for use as objectie markers
40mm Cargo boxes (x3): 6,25 euros
40mm Cargo frames (x5): 6,95 euros
30mm Cargo boxes (x8): 6,95 euros (available soon)
And as our big opening release, shortly you would find in our web store the MagLev train, suitable for Paradiso campaign scenarios. A 120cm long model crossing you whole table. This model will come with playable interior and openable doors. Our container range is designed to stack in the train wagon and the cargo clamps would be both movile and removable.