So, some of you might have seen this beauty in different thread. As the title says I got one to myself too and would want to share a couple of thoughts of it.
http://www.madmechaguy.co.uk/mmg-15mm%2 ... uttle.html
Here is how it looks at the moment: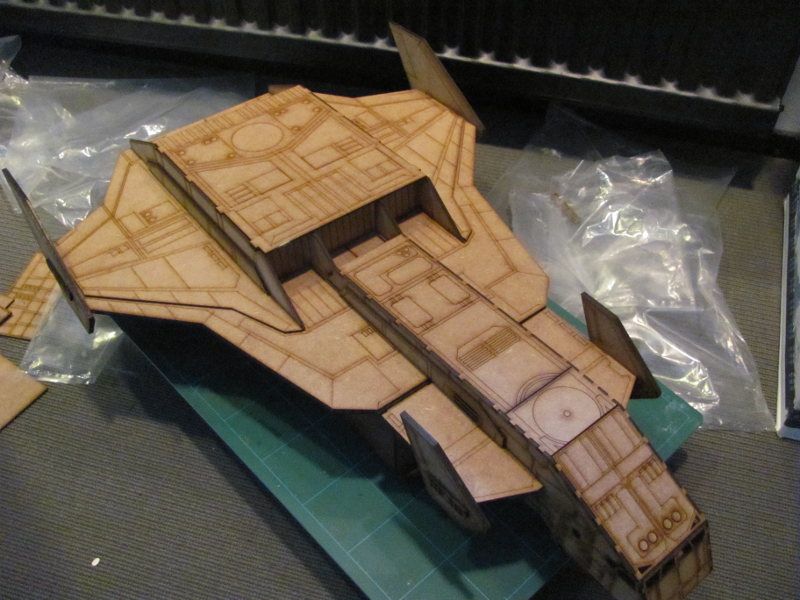 [/URL]
Looks quite impressive. I didn't glue some parts yet and the whole thing is in three bigger pieces, mainly because it's easier to paint in it current state, but I'll probably leave some parts separate so it's easier to transport around. Here's it with all the parts separated: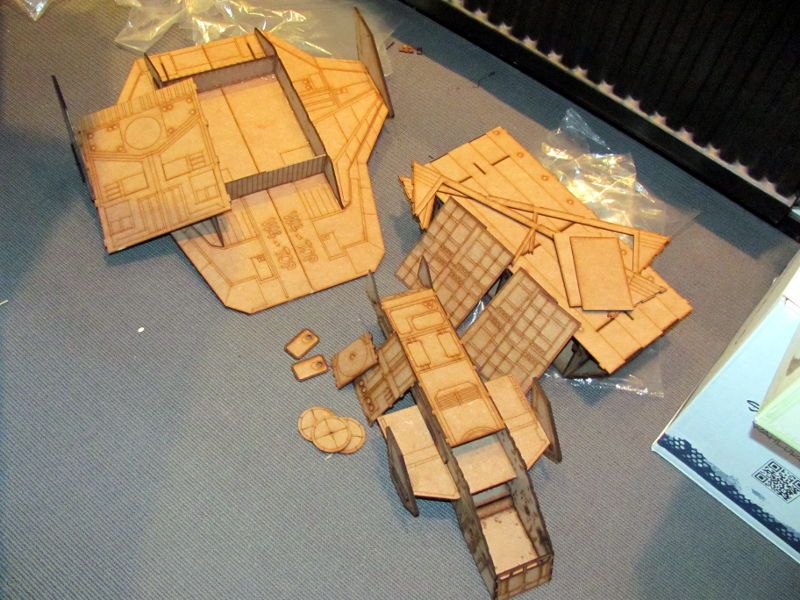 This is big piece of terrain (60cm/ 2' long) and IMO makes solid centerpiece on themed playing table. The thing feels quite sturdy, and even while it didn't come with instructions, the thing was relatively easy to build with pictures found in this thread:
http://theminiaturespage.com/boards/msg.mv?id=368498
One reason to this was because all the pieces came sorted in smaller bags in somewhat logical manner. After one run of dryfitting everything I pretty much knew what goes together with what. Nonetheless the process required some thought and I made some small mistakes there and there. And even then there is still lots to do before this is really finished. But for the time being, here is some of my observations:
-Ordering: MMG replied relatively fast to my messages and even while he cut at least some of my ordered products (probably all of them) after my initial contact, the order was sent in only a few days. On the other hand the site is somewhat dated (the 28 mm version isn't even listed there), but you do most of the communication with emails anyway. Even when I decided to change a part of my order and he had already cut that part of it, there weren't problems.
-Product: I've ordered some products from MMG before and I have to say the cutting of this manufacturer has improved. Before some of the edges were cutted a bit unevenly (like the laser had cut several times and in some parts of the edges there were very thin layers of mostly separate pieces of MDF to clean). Not anymore. The parts fit well and if one uses his/her smarts, even the big halves of main wing went exactly where they should, by using the slots cut into them. Overall, for 40£ this is IMO quite solid kit.
-Difficulty: This kit is big, so prepare to use couple of evenings to it, if only to let glue to dry. PVA works fine. Also, some clothespins and a vice helps too. And some extra room, ofc. Lack of instructions is a minus, though.
I took some pictures while building this, so if somebody wants to see more detailed report/building instructions, I can do that.