"It will be a day long remembered": the Ultimate JSA vs. ALEPH face-off: 300 pts YAMS
***BATTLEFIELD CONNECTION ESTABLISHED***
***ESTABLISHING FEED***
***PLEASE WAIT***
Keisotsu link team leader Jiro spat on the ground as his subordinates moved in to position. Today was the day. The day they would show those bastard fake-humans that the Japanese are free! The lowlife Yu-Jing overlords had called upon ALEPH to help subdue their uprising. It would not help, Jiro resolved. They now had a TAG! They would annihilate any ALEPH forces that dared stand up to their honour.
JSA deployment
The Japanese moved out at Jiro's order, deploying their fire team on the left flank. To his right, Jiro saw the awe-inspiring statue of the O-Yoroi take position in the center of their line. Whom he could not see was the ninja, who had already hidden herself from sight.
Finally, he nodded in respect to his commander: Asuka Kisaragi on her bike, closely followed by Yojimbo and his koalas of death. They revved up their engines and sped down the right flank.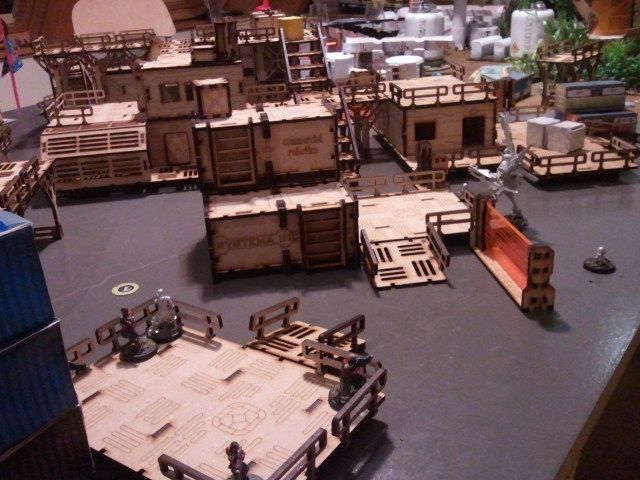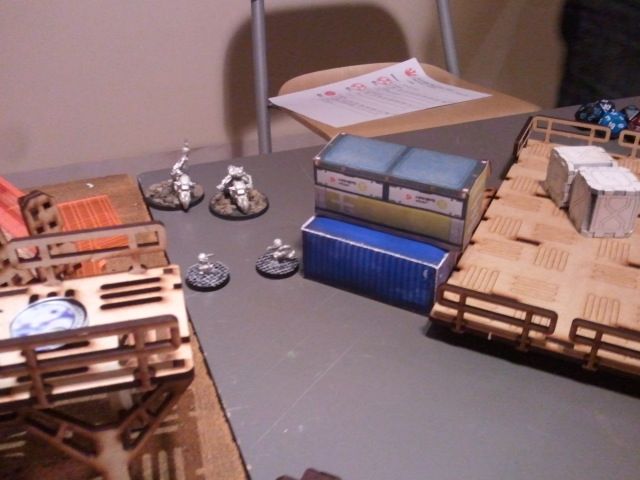 JSA missions
They resolved to act aggressively, to
decimate
as much of the enemy force as possible. To further their cause, Jiro had planned to
intimidate
any nearby civilians. Watching a lhost body explode would certainly change their minds about trusting ALEPH!
To top it off, Jiro had ordered his men to slice up any Greeks in honourable close combat, if at all possible!
ALEPH deployment
Over on the other side of the battlefield, Atalanta set up shop on top of a building. Giving her a dominating position on the battlefield, she readied herself to execute any of the rebels at will. Below her, a link team of Thorakitai took up defensive positions. They knew they'd most likely have to repel a Japanese assault, before being able to attack themselves.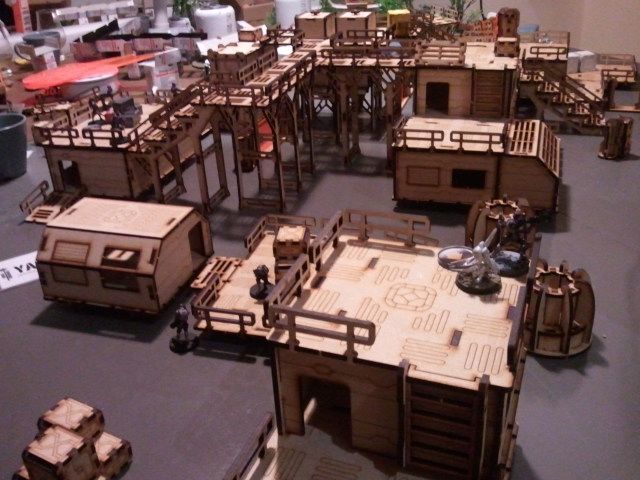 On the left flank, the main unit of Myrmidons took to a roof, ready to get to the high ground and dominate the battlefield. Hugging cover, Lieutenant Phillippos spoke into his wrist-mounted comm unit: "All units in position. Wait for my signal to deploy."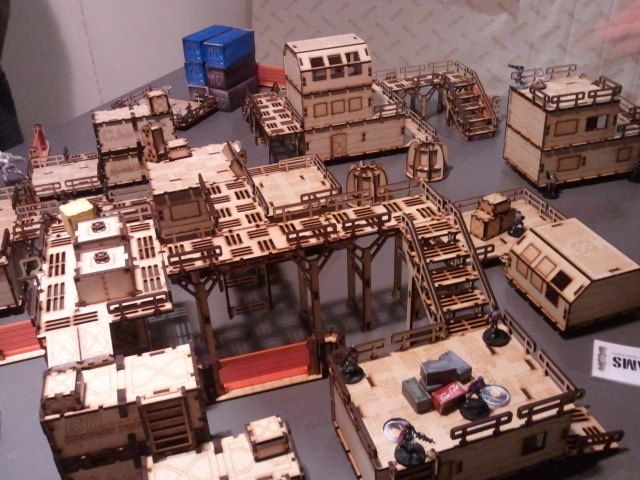 Then he nodded to his second-in-command Eudoros. "Wait for them to come at us," he ordered. "We will repel them and counter attack at the first opportunity. Diomedes will catch them in the rear."
Eudoros nodded. "Understood, sir."
ALEPH missions
Where the forces of the Yu-Jing state empire had failed to suppress this rebellion, the Steel Phalanx would succeed. The Human Sphere could not exist without peace within its own borders. Phillippos and his comrades knew they had been created to ensure the survival of Humanity.
Their plan was simple: kill the enemy leader and escort the civilians from the battlefield at the earliest opportunity. Meanwhile, they'd have to keep losses to a minimum, while downing as many rebels as possible. Standard operating procedure.
JSA turn 1
Asuka and Yojimbo punched their bikes and shot forward towards the ALEPH left flank, covering themselves with smoke.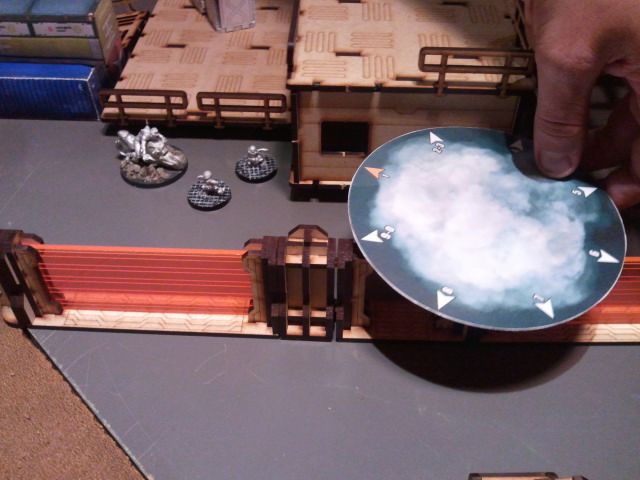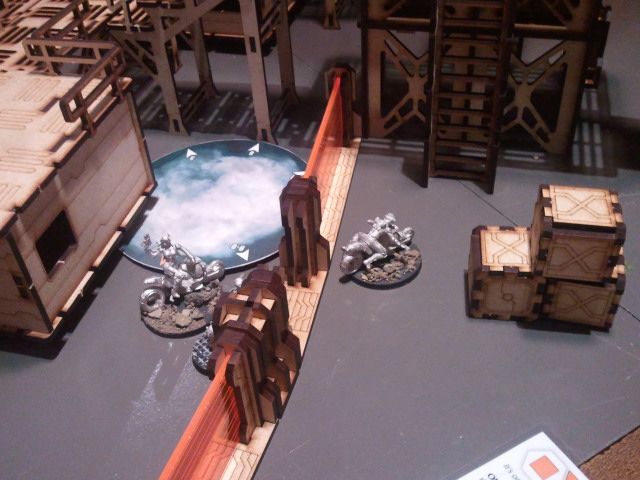 Then, out of thin air, a shot echoed off the walls of the surrounding buildings. Jiro looked to the center and right of the line, where he saw the ninja revealed, her rifle resting on the railing bordering the rooftop she was on. Her rifle was smoking from the end of the barrel.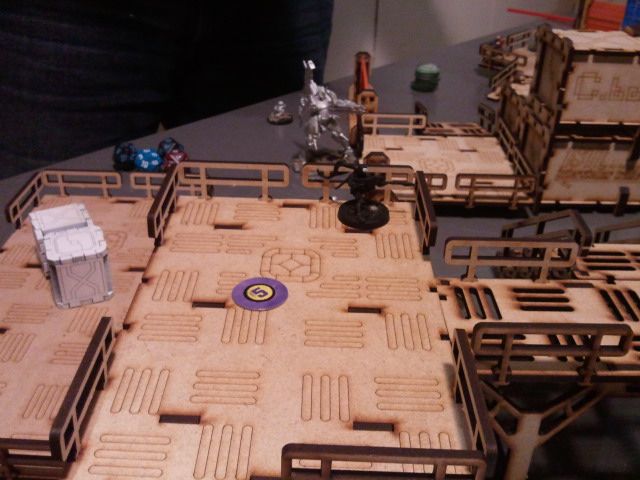 "Hit confirmed," Jiro heard through his comm. "Enemy sniper down. Positive civilian at the scene."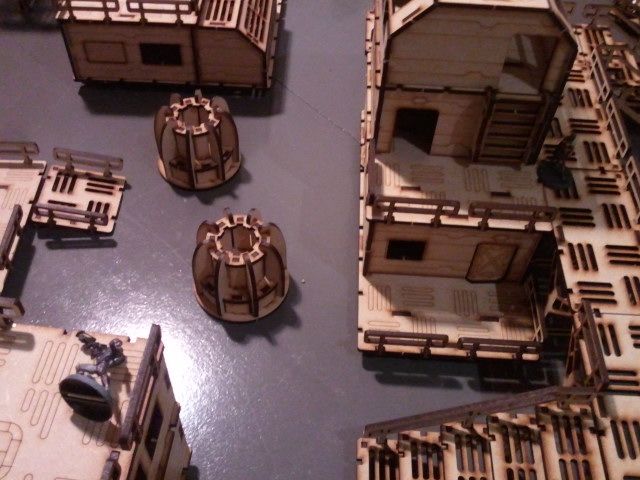 "Excellent," Jiro then heard, this connection fazed with what seemed like the noise of a motorcycle engine. "Move up the TAG."
From the corner of his eyes, he saw the ninja fade from sight again.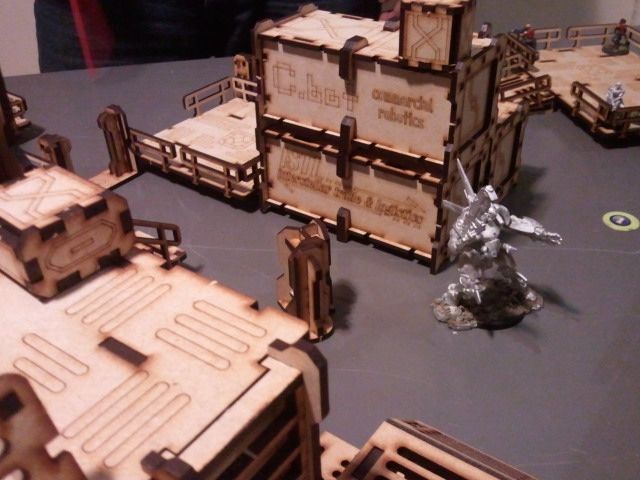 As ordered, the monstrous machine (nicknamed Godzilla by the troops) began its stride down the center of the battlefield. Quickly, Greeks entered into its targeting reticules.
"Engaging!"
Godzilla let rip its machine gun at the entrenched Thorakitai. High-caliber bullets impacted around the Greeks, shredding two of them as they desperately tried to hug their cover.
"Take it down!" came the cry from what seemed to be the Thorakitai leader: Alke. Her burst of returning fire chipped a chunk from the TAG's armour, but it soldiered on, shrugging off the hit. Then it moved into cover.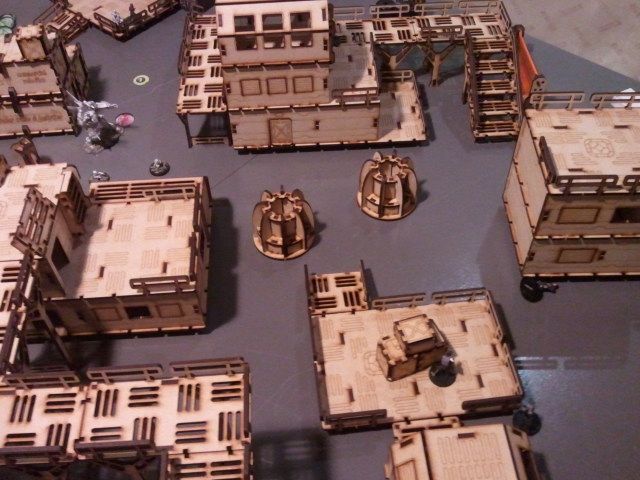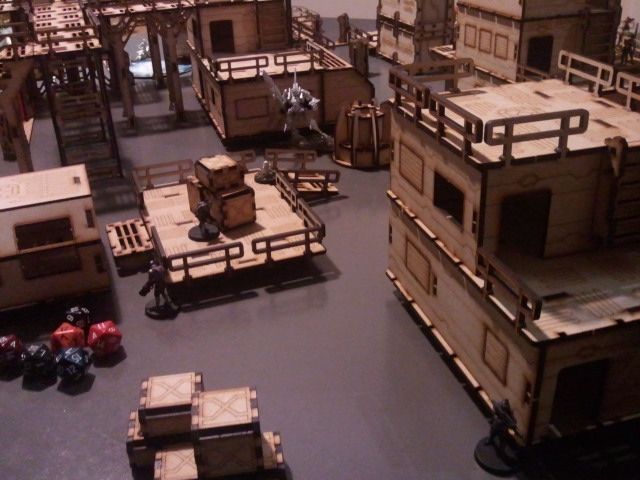 Meanwhile, Yojimbo and Asuka got their sights on the Myrmidons, entrenched up on a roof. Yojimbo popped another smoke grenade, but misplaced it, causing him and his busty companion to focus on dodging bullets from the defending Myrmidons. They quickly pushed their bikes into more solid cover.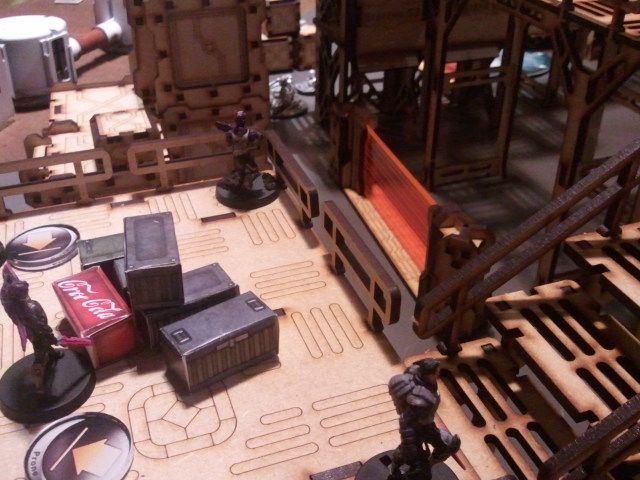 ALEPH turn 1
"Engage! Engage!" called Phillippos into his comm. Sure enough, moments later, a small spek could be seen in the air above them. A few more moments later, Diomedes descended from the skies.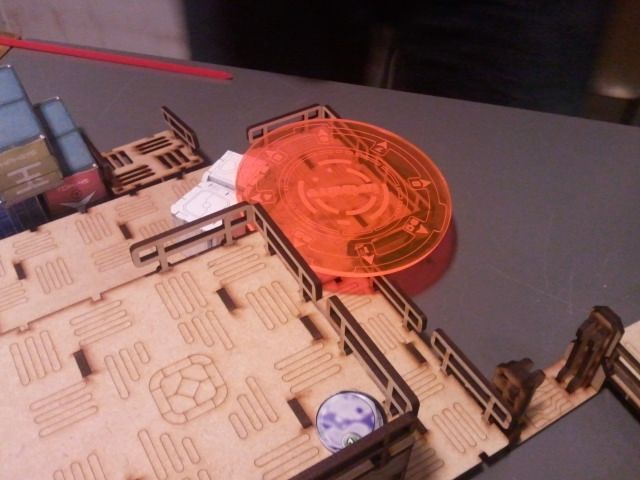 Adjusting his descent, Diomedes landed on a balcony. Before he realised it, he was taking fire. The building behind him was occupied and he'd landed just within sight!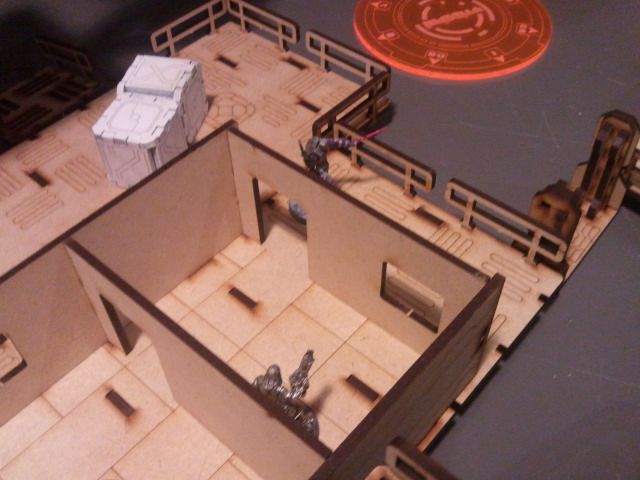 He flinched as a combi round pierced through his armour. As soon as he made for cover, another impact shook him. The Keisotsu link team had him in his sights as well!
Fatally wounded, Diomedes slumped to the ground.
Philloppos gritted his teeth. He would have to handle this situation himself! He ordered his team forward, up the stairs, covering their approach from the enemy with smoke.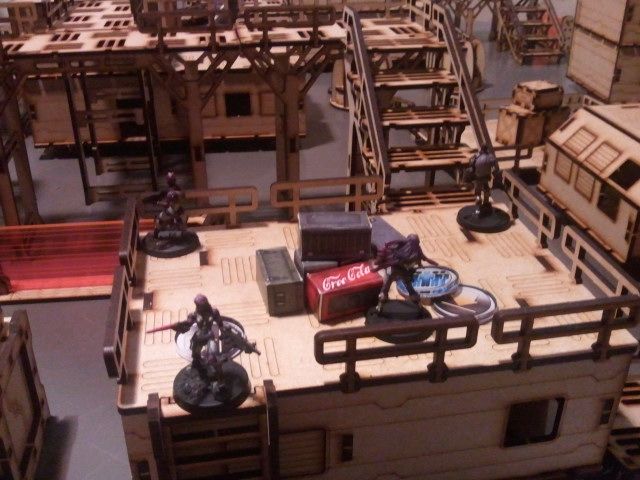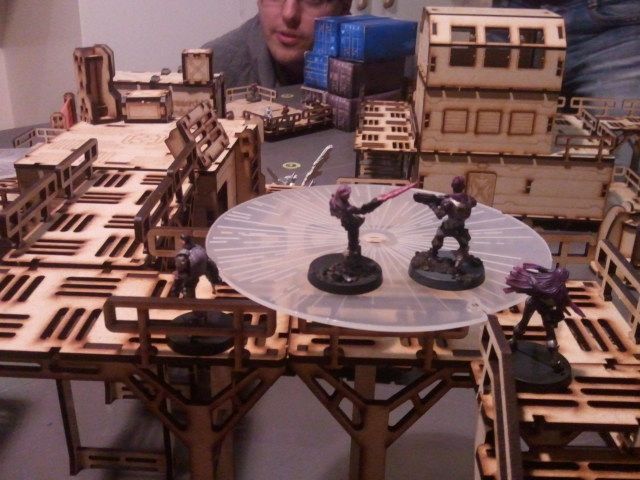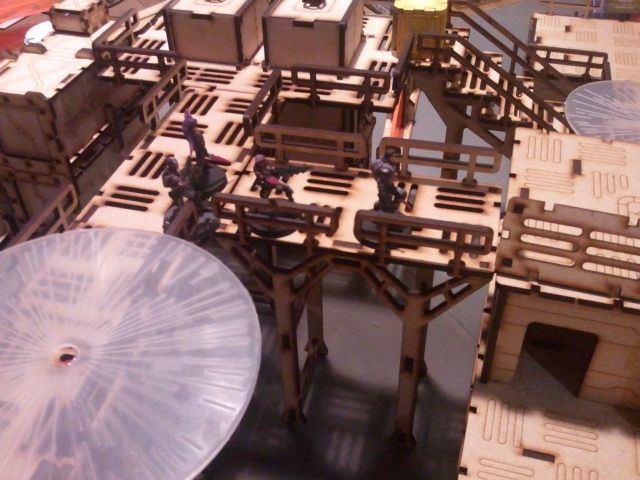 He prepared his team as they were about to take another round of shooting. But then…
***STATIC***
***FEED LOST***
***BATTLEFIELD CONNECTION TERMINATED***
Aaaaand that's it folks. I know, I know! We would also have loved for this battle to go on. However, the two commanding officers had spent far too much time making their lists, deploying and playing their first turns. Our time was up and we had to cut the game short!
BUT! We did have a winner. The JSA rebels managed to take down an agent of ALEPH in front of a civilian, and as such completed their
Intimidate
objective. With the ALEPH player conceding victory, this will be a day long remembered: victory over ALEPH!
We'd love to hear your thoughts and comments!
P.S.: I'm sure you guys all know, but I'm still getting the "Where did you get that terrain?" question. From Systema, of course. Check it out on their website:
Systema Gaming Scenery
.